Home Theater Recommendations
---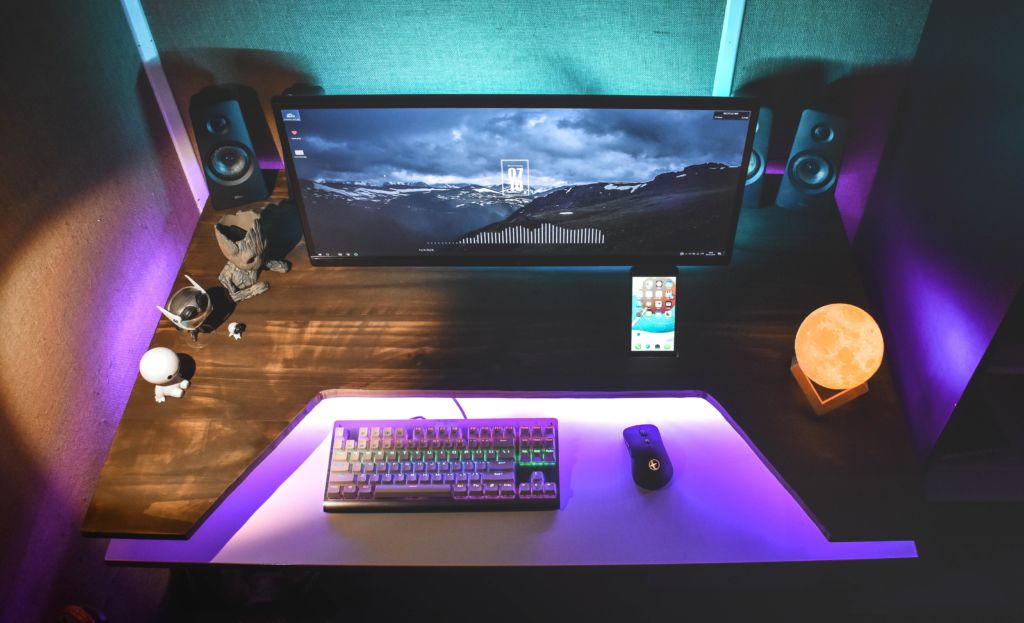 All that stands between you and surround sound nirvana is well, the sound! But it's not enough to go willy nilly and just buy any ol thing, I mean you do want to actually get something that you'll enjoy right?
I've made more buying mistakes than I'd care to admit, so I'm here to make sure you don't make any. Also do keep in mind that little factoid about timbre matching we talked about. While it isn't 100 percent necessary, it will make an audible difference usually.
But here are some of the products that I have personally tried/purchased and highly enjoyed. 😀 You truly can't go wrong with any of these that you pick so don't worry. By no means are these the only products you should take a look at though.
These are just some of the ones I'm personally familiar with and would recommend to you. I've given my personal opinion under each to give you some extra insight too.
***Be sure to check out the things to go with the speakers section because you will need things like HDMI cables and speaker wire.***
Feel free to skip ahead to whatever section though since I'm not psychic and cant tell what kind of setup you plan on doing (would be cool though right?)
---
As an Amazon Associate I earn from qualifying purchases.
---
Bookshelf Left/Right Speakers
---
Polk Audio T15 Bookshelf Speakers, Pair, Black
If you want a quality sounding speaker for the money, then definitely go with this one. I can attest to it since this was one of the first speakers I owned. Can't complain honestly. They work really good in small to medium sized rooms. Best way to describe these would be exceptionally articulate and clear.
Polk Audio RTI A1 Bookshelf Speakers
If you were to go this route, then you definitely wouldn't be disappointed with this one. The difference here comparatively to the former is in the materials and driver type. Basically put, this one technically did sound better than the T15 admittedly, but it wasn't by a groundbreaking amount necessarily.
Polk Audio RTI A3 Bookshelf Speakers
See now these are a big step up from the T15, and even the previously mentioned RTI A1. The drivers (the part where sound comes out) are bigger so it can handle a higher output of sound. However do note that these are also pretty big. However if you are looking for something that's going to put out more power, and sound clear doing it, these would be it. Fun fact, these are actually a part of my current system right now. They're good for any room size.
Klipsch RB-51 II Black (Pr) 2-Way Bookshelf Speakers
Think of these as the bigger brother to the previously mentioned speaker. Bigger speaker, with a much bigger sound. if you do decide on this one it will undoubtedly amaze you. I'd say these are probably good for medium size to almost large rooms since the driver is larger. Super clear though it's crazy. They definitely aren't the smallest speaker so do keep that in mind but highly recommended.
Klipsch RB-81 Reference II Two-Way Bookshelf Speaker
Before I even say anything about this one, right off the bat I'll just say it; it's kinda huge. With an 8 inch driver, yeah definitely make sure you have the space for this one if you're thinking about it. However I do have to say it's undoubtedly worth the money and it'll be something you can crank pretty loud (not saying do this, just that it's quite capable)
JBL Arena B15 Black Bookshelf & Surround Speaker
Another pretty cool brand to consider is JBL. From my experience, while they're good for movies, I found them to be particularly fantastic for music. They have a really warm sound that's really easy on the ears. So if you're looking for speakers that would be good for music listening then these would be the ones to get.
Edifier R1280T Powered Bookshelf Speakers
These speakers are really cool because they can either be used with your receiver, or work without one via their own power. That not only gives you a lot of variability in terms of how you use them, but it also means they can be used with computer speakers. Plus they sound great too.
Center Speakers
---
Polk Audio CS10 Center Channel Speaker
This Center speaker has to be one of the best values you can get. I've owned this speaker and I would say the best way to describe it would be extremely clear and dialogue is really easy to hear. Definitely a good center and good for small to medium sized rooms.
Polk Audio CSI A4 Center Channel Speaker
This Speaker is pretty big so make sure you have the space. But it is a step up from the CS10.
Polk Audio CSI A6 Center Channel Speaker
I can attest to the quality of this center since I'm actually using it right now funnily enough. However something I do want you to keep in mind, should this be one you're interested in, is the fact that it is genuinely huge. You would need to have a lot of space for this one, and I'd recommend this one if you have a really large room. However if you can accommodate it, it is capable of pumping out some serious sound while not struggling one bit doing so.
Klipsch R-25C Center Channel Speaker
Had no complaints with this speaker. This one too isn't the smallest thing in the world so make sure you have the space. Would be a good compliment to any of the klipsch speakers mentioned.
Klipsch RC-62 Center Speaker
This is another great center speaker. Klipsch is known for sound clarity and articulation, and doesn't disappoint here at all. It does pick up fingerprints easily though, and is pretty large so keep those things in mind. But the sound quality itself is really great.
JBL Arena 125C 2-Way, Dual 5.5-Inch Center Channel Loudspeaker
If you were to choose a jbl speaker, then I'd highly recommend this center. Does what it's supposed to, and I personally enjoyed it.
Surround Speakers
---
The good thing is you really don't need to put insane amounts of thought into a surround speaker. While timbre matching all your speakers is important, it is not as much as a necessity with surrounds honestly.
This is because the job of a surround is responsible for general ambiance and directional cues. In short this means you don't need to give an arm and a leg for good ones. You also can use left/right bookshelf speakers as surrounds too if you wanted to, but that's up to you. Here's a few I personally liked though.
Floor Standing Speakers
---
So no use in mentioning how large the following floor speakers are since well….they're meant to stand from the floor! However if you are interested in floor speakers, I would not only recommend having the width available for them, but also placing them about 6 inches away from the wall so there isn't any unwanted room gain (this is the over emphasizing of certain frequencies over others)
That way you'll get the best sound possible. I would personally recommend a floor stander for three reasons over a bookshelf one; if you have a very large room, if you aren't getting a subwoofer, and/ or if you're primarily interested in music. Here's a few good ones.
Subwoofers
---
Polk Audio PSW111 Subwoofer
Think of this as the little subwoofer that could. While it won't dig as deep as the big boys, wow is it powerful for its size. It would best be suited for small to maybe medium sized rooms. I actually did a full review on this one. ( Polk Audio PSW111 Review) The crux of it was if you live in a college dorm/ normal apartment or something similar, this would be the subwoofer for you. Also really good for music too.
Polk Audio PSW505 12-Inch Powered Subwoofer
This could be considered the bigger brother of the psw111, with a 12 inch driver compared to the 8 of the latter, this thing can put out some pretty impressive bass. It's also a lot bigger, so if you think you have the space, then by all means go for this one. It's definitely a step up and would be right at home in a medium sized room.
SVS PB1000 10-inch
This subwoofer definitely packs a punch, and one you can feel at that. SVS is one of the best subwoofer brands from my experience. All I can say is that it's worth every penny. I have one of these and it definitely makes movies fun that's for sure.
SVS PB2000 Subwoofer
This thing is a beast, that's the best way to put it. Remember when I said you'd ideally want a subwoofer that goes into the 30 Hz range? This one goes to 17….yeah kind of ridiculous. Truthfully, this would be an amazing sub I'd recommend to get. The bass that it exudes is clean, tight, punchy, and deep. It's one you'll not only hear, but feel.
Soundbars
---
If space is an issue, but you still want quality sound, these soundbars would be worth a look.
Receivers
---
The receiver is important because for the most part, this is where your speakers will actually plug into. Here are a few receivers that'll get the job done. Also if you have a newer TV that is capable of 4k, HDR (high dynamic range), and or extended color, make sure the receiver says that it supports that. Otherwise it will only work via an optical cable and not HDMI.
Sony STRDH190 2 Channel Stereo Receiver
*Quick note about this receiver, it's a stereo receiver meaning it only supports 2 speakers used in stereo*
Yamaha RX-V485 5.1-Channel AV Receiver with MusicCast
If you're concerned with getting a receiver and you plan on doing 5.1, this would be the one. Also looks really nice in person honestly, and it supports the newest standards like 4k and hdr.
Sony STRDH590 5.2 multi-channel 4k HDR AV Receiver with Bluetooth – Black
What I like about this receiver is the fact that it's 5.2, meaning it will allow you to connect 2 subwoofers if that is something you are interested in. Supports 4k/hdr.
Denon AVR-X1600H 4K UHD AV Receiver
Super awesome considering the fact that it supports all the newest tv standards, 7.2, and even Bluetooth capability. Plus it looks good!
High End Speakers
---
I just want to say that I haven't owned any of these next few speakers personally, but I have heard them before and…just wow. They are certainly in a league all their own, and if you want something incredible, then these are a few I would personally select from experience.
Klipsch RP-450C 
This one.. I'm sorry but I have to say something about this one. This is so beyond words. You know how something is so hard to describe that you can't find the right words to depict it? Yeah, that'd be this instance. There's a good chance you probably haven't experienced something like this. It's a legit monster and I love it.
Things to go with the speakers
---
Just a little inside tip from me to you, you don't need to spend insane amounts of time worrying about different wires contrary to popular belief.
The job of a wire is simply to transfer a signal from one point to the other; and the only time it would truly make a difference is in two instances, if there was something wrong with the wire the person was using already, or if the newer wire is an entirely different iteration of tech all together (like a new HDMI standard or something similar) I don't want you making the same mistakes that I made.
AmazonBasics 16-Gauge Speaker Wire – 100 Feet
You probably will need speaker wire though just as a heads up, so you can actually wire the speaker. (I remember I bought speakers without it one time and that super sucked lol) If you're getting a soundbar though, you wouldn't need speaker wire, and would just need an hdmi or optical cable depeding on what kind of connection your soundbar uses.
4K HDMI Cable
Regardless of your setup, If I had to take a gander, you'll probably need at least 2 hdmi cables initially so this is a safe bet. However if you already have HDMI cables at home then just use those honestly. *Only instance is if you have a 4k tv and want to watch 4k content on your new system, then you would need these to do that.*
DOWELL 10-22 AWG Wire Stripper
And also just as another heads up, you will need to strip the insulation off the speaker wire itself to actually connect it to your speaker, so this thing will make your life so much easier. This is an invaluable tool because this will allow you to strip the speaker wire without having to use scissors or a knife or anything to do it. I use this thing and it works!
Pin Plugs
I can't recommend how many of these to get since I don't know your exact setup, but keep in mind that each speaker uses 1 pair to connect to it, and then another pair to the receiver.
iVANKY Optical Audio Cable
This is for 3 really specific scenarios, if you had the Playstation Pro (not the PS4) and wanted to connect it to your receiver, or if you are getting a soundbar/dvd player that didn't support hdmi then you'd need this. Also if you get a receiver that doesn't support HDR but your TV does, then you'd need one for that type of content in that instance.
Mediabridge ULTRA Series Subwoofer Cable
Another really specific scenario that may apply to you would be if you need what's called an RCA cable, which can look like the picture there; or what you may know as the red, white, and yellow wires. A single RCA cable plugs into your subwoofer, and the other into your reciever. Reason why I say that it depends though is that you may not even be getting a subwoofer at all, in which case this would not be necessary either.
BAFX Products – Decibel Meter/Sound Pressure Level Reader
This is if you wanted to calibrate your speakers manually yourself, rather than getting a receiver with an automatic mic. But if you choose to do it this way, this is a really good little meter.
VideoSecu 2 Heavy Duty PA DJ Club Adjustable Height Satellite Speaker Stand Mount
Speaker stands which are optional. These are really cool though since it allows you to clamp your speaker in place without worrying about knocking it over.
Sony RMVLZ620 Universal Remote 
A universal remote is something a lot of people don't think too much about, but one of these can make your life infinitely easier. This one in particular is pretty fantastic since it supports up to 8 devices at once. I also did an article on these as well if you're curious about a few other ones I found to be pretty awesome.
2 Comments so far: