As an Amazon Associate I earn from qualifying purchases. Disclosure
The Best Home Theater Projectors For 2023
---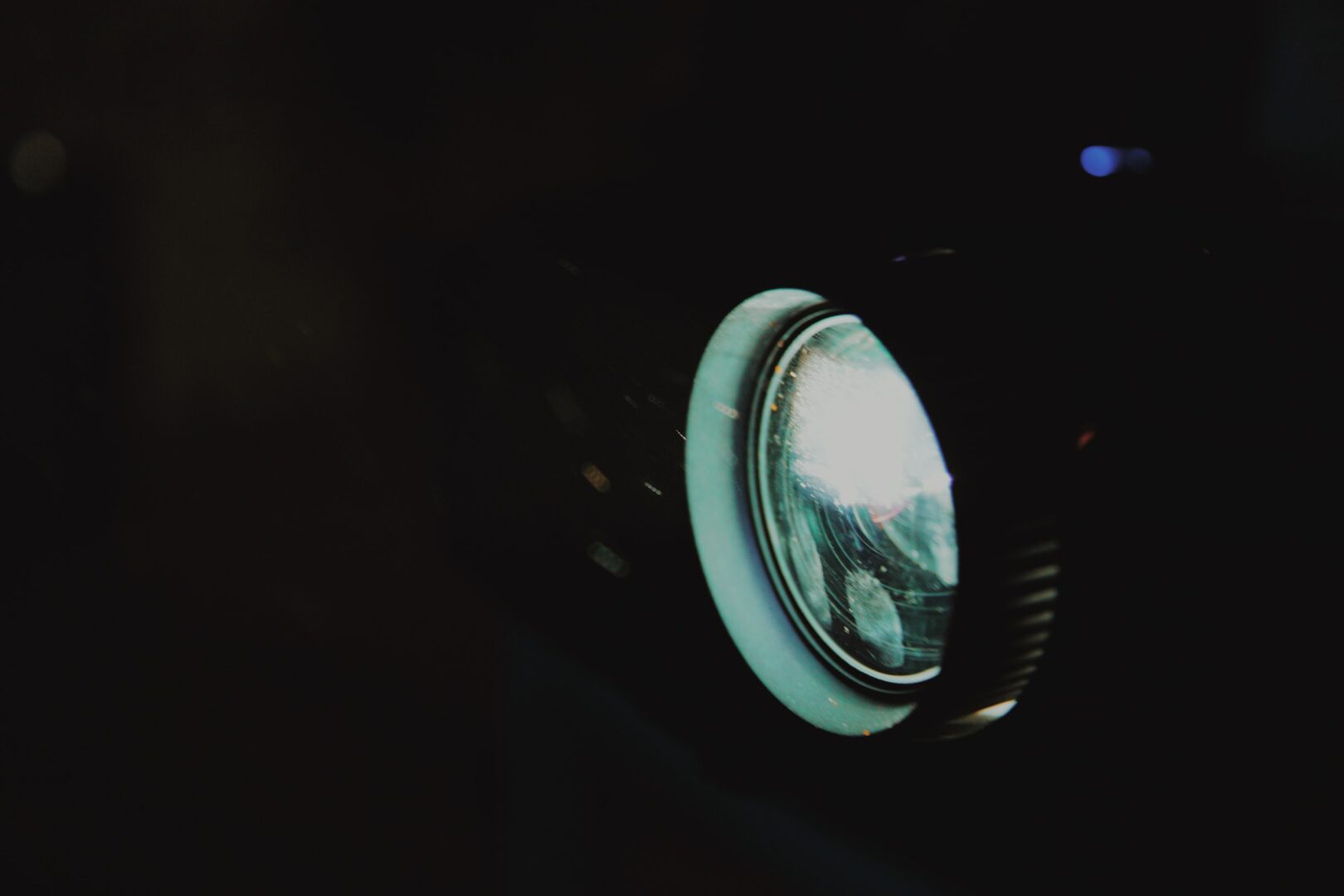 How's it going everybody?
Today we'll be taking a look at, in my opinion some of the best home theater projectors for 2023. If you've been looking around but couldn't really decide what to go with, then this list should help.
No doubt there's a lot of quality ones out there, so more specifically what we're going to do is find the one that's right for you out of some of the best ones currently available.
We're going to be going over a lot including what to look for, how to set one up, and a bunch of other stuff.
Below is the list of the top picks for the year so far, and below that is a guide on things to keep in mind.
The Best One For 720p – G210 Mini
---
Perhaps you want a small little projector without all the bells and whistles that just works but still provides a great picture quality. If that is the case, then a solid choice would be the G210 mini.
Why is this though?
Well a few reasons.
The first reason why this might be the one for you is the fact that it can get pretty bright; so bright in fact that it's easily usable at day or night time. That basically gives you a lot of versatility when it comes to viewing conditions.
It's rated at 7500 lumens which is super impressive, and makes for a really bright picture.
You also get the big screen experience since it can display from 50-240 inches.
What's also cool is this projector also has built in speakers that actually sounds pretty good. It obviously isn't a replacement for a proper surround sound setup, but I still think it sounds pretty good.
It also runs quiet thanks to its noise reduction.
Lastly there's the standard ports like HDMI, VGA, etc for your multimedia devices.
Pros
---
Great picture quality
7500 lumens means it can be used in bright or dark environments
Can go from 50-240 inches
Small & light at 12.13 x 8.07 x 5.51 inches and 4.16lbs
Runs quiet
Support for game consoles and other devices
Cons
---
All in all, it's a fantastic little projector and I think it does a great job when it comes to picture quality.
The Best One For 1080p – BenQ TH671ST 1080p Short Throw
---
In terms of the best full HD projectors, this is a great option. One of the major reasons for that comes down to a superb picture quality. It's rated at 3000 Lumens, meaning it'll be plenty bright even in well lit conditions.
That means no worrying about the picture getting washed out from sunlight since it has the horsepower to really crank up in visibility. It's also rated at 92% Rec.709 accuracy meaning you're getting a very accurate and true to life image.
This makes your movie nights that much more immersive.
What's really cool about this one is the fact that it's short throw, meaning it's great for smaller rooms too and not just large ones. In fact from just 5 feet away from a surface, it has the capability to produce an image that's 100 inches across.
That's pretty impressive.
Even better, it can go up to 300 inches, so even in the biggest of rooms it should more than suffice.
One reason you may actually consider going with this one as well is if you were heavy into gaming. It has a 16.6 ms input lag which to put it simply, is incredible. This basically means the delay between a button press and what you see on screen is nearly nonexistent.
Plus it even has wireless connectivity with features like Bluetooth so you can connect your phone and play content from that.
It's just an all around great performer, hence why I feel it's a great performer at the 1080p range.
Pros
---
3000 Lumens meaning it can get bright even in the most sun baked rooms
Short thow design allows it to produce a 100 inch screen only 5 feet away with support up to 300 inches
Wireless connectivity
Support for wired connections like HDMI
Picture quality is clear and colorful
3 year warranty
10,000:1 contrast ratio allows black levels to appear deep and rich
Cons
---
Honestly none I can think of
I honestly have no complaints about this one. It's just an all around solid device. Highly recommend it.
The Best One For 4K and HDR Support – Epson Home Cinema 5050UB 4K PRO-UHD
---
Now we're getting into the heavy hitters. So now let's say you were looking for a more high end model that's capable of 4K, HDR, the works.
You have a lot of options so what exactly do you go with?
In my opinion, I feel that the Epson 5050UB is an awesome projector in this particular range.
Why?
Quite simply because the picture quality on this one is incredible; you'd have to see it to believe it. It is fully 4K HDR compatible, so any of your 4K Blurays or ultra high definition content is going to look breathtaking with this one.
This is further helped along by the fact that it's a 12 bit device. I've talked about what that means before in this article, but basically that means it's capable of displaying over 68 billion colors.
This means your picture not only looks colorful, but more nuanced as well since it can display more shades and gradients. As a result things look much more lifelike and realistic.
Add to the fact that is a 3 chip model, and that just means that it can process each color individually and simultaneously to make things look downright spectacular.
But I think one of the things that impresses me most about this one is a feature that Epson is calling Epson Ultra Black Technology.
This basically allows it to eliminate any extra light that might be produced which would otherwise wash out the picture; giving it a 1,000,000:1 contrast ratio. To give you an idea of how incredible that is, there's some high end TV's that aren't even capable of that.
So what this provides you is black levels that give the image an almost 3d look because of how clear and real things look. Combine that with the ability to go up to 2600 lumens, and you have yourself one incredible package.
It's honestly one of my personal favorites, so if you're looking for something quality to replace your television, this would be it truthfully.
Pros
---
4K HDR Capable
Ability to go up to 2600 lumens in brightness
12 bit color means it can display over 68 billion colors
Ultra black technology gives it the ability to create lifelike images due to incredible black levels
Typical inputs like HDMI, etc. means it works with all of your devices
Picture quality is gorgeous
Cons
---
Not the lightest thing in the world at 24.7 pounds
If you don't care about the slight heft, then this is certainly among the best out there. Content looks incredible on it.
The Best One For Gaming – Optoma UHD35
---
Let's say you're really into gaming and need one that'll give you a great picture without introducing a bunch of lag. In that case, I'd highly recommend the Optoma UHD35.
What's awesome about this one is that it supports from 60 all the way to 240 Hz, which means gaming with this one will look silky smooth whether that's on PC, or even the next gen consoles.
It's able to do 4K 60fps, 1440p 60fps, 1080p 60, 1080p 120fps, and even an incredible 1080p 240fps
At 1080p it has an impressive 4.2 ms response time.
The great thing about all of that is that it'll feel incredibly responsive since the delay between when you press the button and what happens on screen will be infinitesimally small. But what's also great is that the actual picture quality is amazing too.
It supports 4K as well as HDR, so you'll be getting the same image fidelity as a traditional display.
This is especially true since it can go to a whopping 3400 lumens. That's bright enough to even be displayed outside in direct sunlight, so you won't have any issues when it comes to actually seeing things.
There's also HDMI support so your Xbox Series X, PS5, or Switch will have no issues working with it.
All in all, it's absolutely the best choice for gaming in my opinion, and is still solid for movie watching as well.
Pros
---
Great picture quality
HDR and 4K support
4.2 ms response time at 1080p
Can do up to 240Hz at 1080p
Support for PC or gaming console connectivity
Ability to go up to 3600 lumens means it can be placed in even the brightest conditions
Cons
---
No HDMI 2.1 meaning no 4K 120Hz support
The Most Portable – ELEPHAS Mini
---
What if you're somebody who's always mobile, but still want the ability to watch content on a bigger screen wherever that may be.
Surprisingly, there's actually a lot of options out there.
One of the best I feel in this category is the ELEPHAS Mini.
Being that it's only 2 pounds, you'll have no problems moving it around since it's so small and lightweight. But don't let its small size fool you, it still manages to pack quite a punch with its 3500:1 contrast ratio.
That's plenty bright enough to still give you a crystal clear image. It also has the ability to connect with your phone, so things like Youtube, Netflix, or even your own videos will work just fine here.
What's cool about this one is that it has a special heat dissipation design that allows it to stay cool even after hours of use which is really helpful.
In terms of screen sizes, they range from 30 inches, all the way up to 200 inches, so you'll still have the ability to display a gigantic image like other larger projectors while retaining that novel sense of portability.
The reason why I feel as though it's the best when it actually comes to portability though is the fact that even though it's compact, you're not losing out on image quality which is extremely important. Things still look colorful and clear, meaning you still get to enjoy the fidelity of your content.
If the ability to move around while still getting a nice image is important to you, then this is a solid choice.
Pros
---
Clear image quality
Contrast ratio of 3500:1 produces a bright image
Light at 2 pounds so can be moved easily
Can connect to your smartphone to play content that way
Screen size is adjustable from 30 to 200 inches
Cons
---
No HDR or 4K
No Bluetooth
The Best Choice For Bright Environments – XIDU Native 1080P Full HD
---
So what if you have a room that gets a lot of sunlight, and you need something that can give you a bright and colorful image even in the day time. Well you're in luck because the XIDU native 1080P full HD projector gets plenty bright.
It has the ability to go to a jaw dropping 16000 Lumens, which means it can display an image in even the most sunlit rooms with ease.
It has the ability to shrink or zoom the picture via keystone correction so that you don't have to physically move it around, and can create a screen size up to 300 inches big.
A movie night with that kind of screen would be transcendent to say the least.
But what's even better is the fact that not only can it create a very large image, it creates a high quality one as well. While brightness levels are of course great, black levels are also impressive. With an 15000:1 contrast ratio, image fidelity looks incredible.
Plus with things like Bluetooth and HDMI, you can connect to your game console or other media device.
There's even dual built in 10 watt hifi stereo speakers built into the projector itself so you get great sound without the need for external speakers too.
It's an extremely solid choice especially if your typical viewing environment has a lot of light.
Pros
---
Incredibly bright at 16000 lumens
Built in dual speakers
Up to 300 inch screen size
Bluetooth capability
15000:1 contrast ratio provides exemplary black levels
HDMI compatible
Cons
---
My Personal Favorite – CZMTA UHD Laser Projector
---
If I'm to be honest, while I love pretty much every choice on this list, this one is probably one of my favorites. That's actually for a few reasons.
The first reason why I feel like it's such a great choice is due to the fact that it's an ultra short throw projector capable of displaying a 100 inch image from only 7.2 feet away. That's super impressive when you consider that a lot of other projectors out there placed that close would give you a much smaller image than what's provided here.
That means there's a lot more diversity in not only placement, but seating as well since you'll actually be able to sit closer while still getting the same benefit. The fact that the screen is adjustable from 80 all the way to 150 inches just makes things that much better.
Another major draw to this one is the fact that it's extremely durable. There's an industrial grade internal lamp included here that's rated at over 25,000 hours. To give an idea of how long that is, if you were to watch your content for 4 hours a day, a single lamp would last you 17 years which is 15 times longer than average; so I think it's safe to say you're in it for the long haul with this one.
Then there's the fact that it utilizes ALDP 3.0 which is a state of the art technology that's actually used in movie theaters to double the efficiency of light giving you a much better image. Speaking of images, thanks to its native 3000:1 contrast ratio, the picture quality that this thing is able to deliver is really impressive.
Black levels look deep and rich, and the colors just pop. It probably has something to do with the fact that it's 1000 lumens brighter than the 2000:1 contrast ratio standard in movie theaters so it was bound to look good.
Or it could have something to with the fact that it's actually able to reach a peak brightness of 2000 ANSI lumens meaning you can place this in dark or light environments and it'll do just fine.
It's even fully 4K HDR capable, and does a fantastic job with that too. I didn't even mention the fact that it has a fully built in Harmon Kardon 60 watt soundbar which even sounds really good.
It just all comes together for an extremely impressive package hence why if you can, this is the one to go with.
Pros
---
Picture quality is superb in even the brightest conditions
Ultra Short Throw delivers a 100 inch image 7.2 feet away
Displays a picture size of 80-150 inches
25,000 hour lamp life lasts 15 times longer than average
Native 3000:1 contrast ratio much brighter than standard 2000:1 in theaters
2000 lumens peak brightness makes the picture pop
Fully built in Harmon Kardon soundbar
Full 4K HDR capability
ALDP 3.0 provides double light efficiency for a more vivid image
Cons
---
Honestly couldn't think of one
The Best High End Choice – Sony VPLVW695ES
---
Now what if you're in the market for the best of the best and the sky is the limit. You basically want something that's no holds barred, no compromises, and has all the bells and whistles.
Well turns out you again have a lot of options.
Now while I'm sure there are other high end choices that are just as good, the one that I'm personally familiar with and can recommend to you is the Sony VPLVW695ES. This has everything you would expect from a high end offering; 4K, full HDR compatibility, you name it.
But what's particularly interesting about this one is the fact that it's IMAX Enhanced.
Basically IMAX Enhanced is a new certification for home theater products that basically means they passed rigorous testing to ensure that they can deliver the highest quality picture and sound possible, giving you the full IMAX experience at home.
Now I didn't think it would make a difference initially, but when I saw the picture for the first time, I was in disbelief at how good the picture looked. It was actually hard to believe it was coming from a projector at all with how clear and bright the image was.
Long story short it makes a huge difference, and this is probably one of the clearest I've ever seen honestly. It even allows you to customize the settings and save up to 5 different custom picture presets at a time which is very helpful.
If you want something that'll surprise you with impeccable picture quality this is a great choice.
Pros
---
IMAX Enhanced provides an unprecedented picture quality
Ability to save 5 custom presets at a time
Ultra HD resolution, HDR, and expanded color
1800 lumens means images will be bright and colorful
350,000:1 contrast ratio gives beyond excellent black levels
3 Chip design provides better color accuracy
Cons
---
Heavy at 37.48 pounds
Large at 25.24 x 21.69 x 12.48 inches
What Is A Projector?
---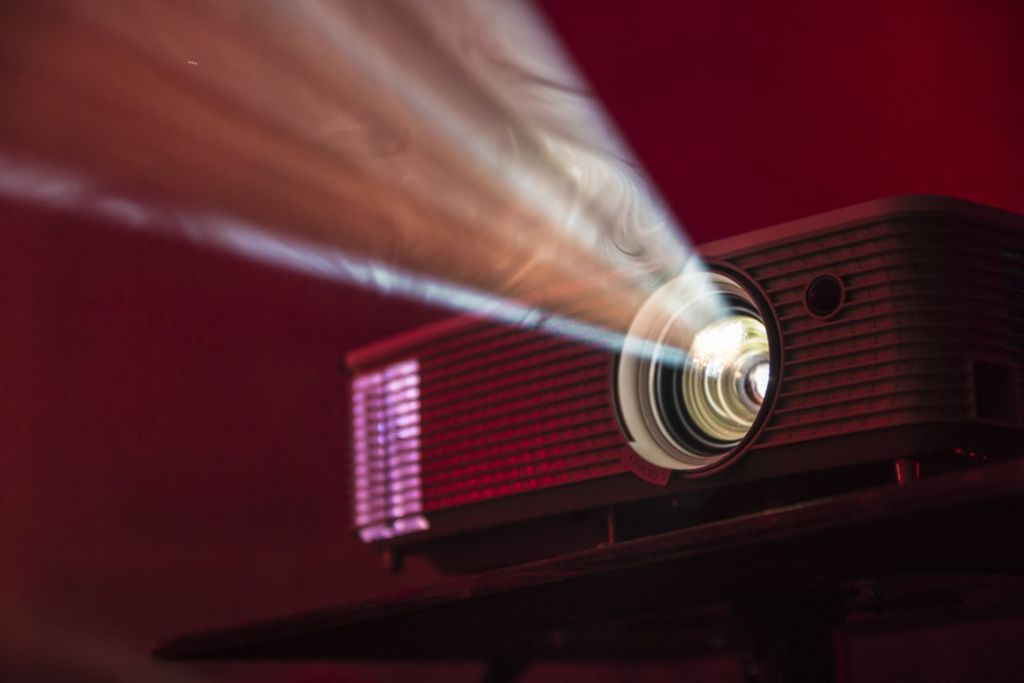 A projector is a device that projects an image onto a surface via the travel of light through a specialized lens, or onto the surface directly depending on the type.
Now believe it or not, the first instance of a projector came about in 1879 by Eadweard Muybridge and was called the Zoopraxiscope. It used moving glass discs to create the illusion of motion.
An updated version came in 1888 by the Lumiere brothers, with their first subsequent film debuting in 1894. This was the version that's similar to the ones used today because it was the first to combine a motion picture camera with a projector.
Of course much has changed since then, but it's still impressive to think that the modern projector has had such early origins.
What Are The Advantages To Using A Projector?
---
Whether you're familiar with projectors or not, something important to note is that there are actually quite a number of advantages to using one over a more traditional display.
~Easier To Transport
---
One awesome advantage is that they are often much easier to transport than say a television set due to their more compact size.
This can definitely make them a more enticing option if you're someone who travels a lot. Or even if you're someone who rearranges their home a lot, this would probably be the better choice to go with since it would make things a whole lot easier.
Could you imagine trying to lug around a 55 inch TV?
That doesn't sound too fun..
~Customizable Display Size
---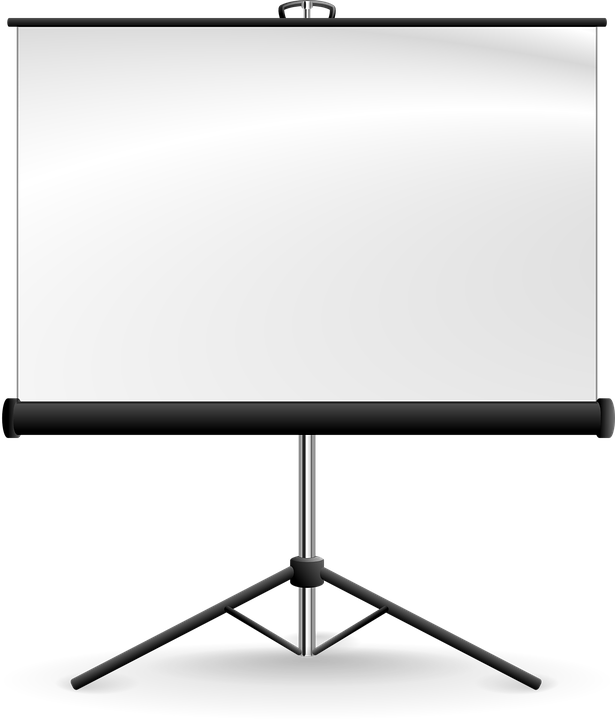 One really cool benefit that projectors have is that you can pretty much change the screen size at will. Instead of watching at 70 inches, today you might feel like watching a movie on 120 inches.
Move it back a little, make some adjustments, and done.
Now you're watching on an even bigger screen. It's this quality that's particularly unique to projectors that make them such a joy to have.
Of course keep in mind each one will have its own specific limits in terms of screen size and resolution, but the fact that you can even have a variable screen size to begin with is pretty awesome.
Definitely something you can't do with a TV.
If you buy a TV that you think is big at first, but then get that upgrade itch when the bigger shinier models come out soon after, you're kind of out of luck. I know I've personally bought displays I thought were huge at first but then later down the line regretted not going bigger.
This essentially circumvents that problem entirely. You can have the size you personally want whenever you feel like it.
~Less Eyestrain
---
Eyestrain is a particularly troublesome condition where the eyes become fatigued, and can subsequently bring about red eyes, tearing, headaches, and a bunch of other uncomfortable symptoms.
A number of things can cause it, but one of the biggest causes is excess light emission; especially in environments where it's dark and you're looking at a bright screen.
But a pretty cool advantage that projectors have, even in these scenarios, is that they have the tendency to actually help reduce eyestrain during extended viewing periods. This is due to their nature.
Because projectors project an image onto an object first before the light from that image makes its way back to your eye, it's much less stressful for it. That's because the human eye is much better at dealing with reflected light rather than directly emitted
The light the typical display puts out, can be stressful for your eyes over extended periods because the particles themselves are being emitted directly into your eyes.
Add in a dark environment and the issue is only exacerbated.
So if you're one of those people that watch a lot of movies at a time for longer durations, this may be yet another reason to choose to go with one.
Eyestrain can also stem from trying to focus on images that are too small. However since you're able to adjust the screen size to your liking, this type can be easily mitigated, giving you a much greater viewing comfort.
~Same Picture Quality
---
A big misnomer with projectors is that they have an inferior picture quality to their TV counterparts.
I'm here to put that to rest and say that simply isn't true, at least anymore.
A few years ago this may have been a valid argument when the technology simply wasn't there; especially at a consumer level. High end ones may have existed that were great, but they weren't attainable for the average user.
However major improvements have been made in the industry since then with 4K and even 8K projectors finally existing at the consumer level; coming equipped with all the bells and whistles you may have been recently accustomed to like high dynamic range, expanded color, and even smart features.
Of course the feature list is going to depend on the one you get, but on a quality projector, the picture quality is actually going to be on par or even slightly better than a lot of regular displays.
So if you were worried that you would be taking a hit to picture quality when jumping on board with getting a projector, you can rest easy knowing that won't be the case at all.
~Better For Larger Or Smaller Than Average Rooms
---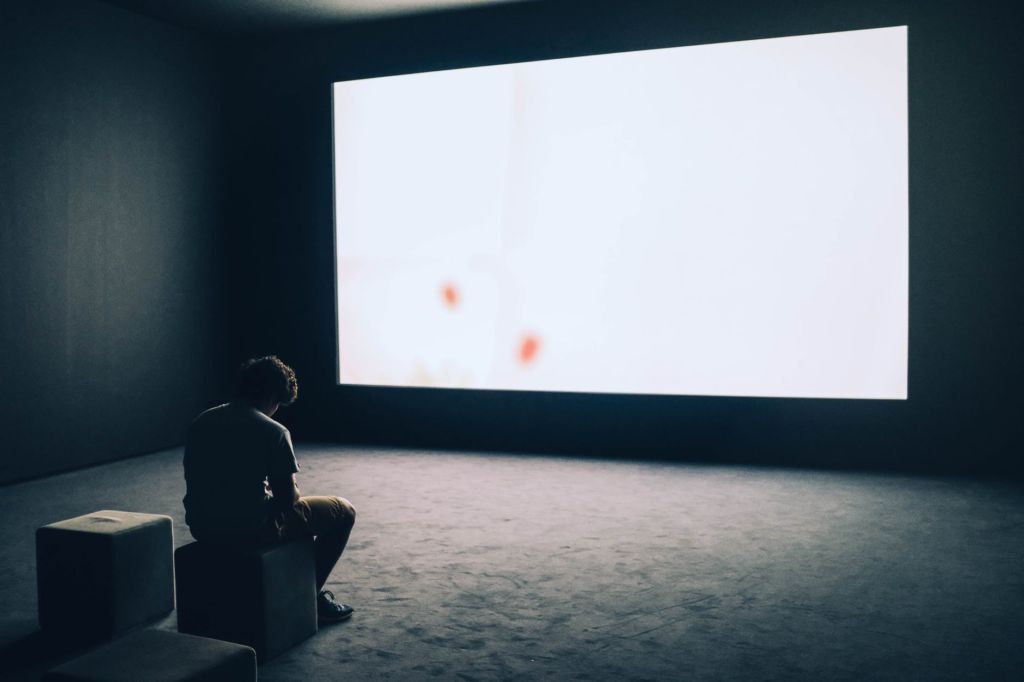 Let's say you have a room that's so large, even an 85 inch TV wouldn't cut it.
While you could go with an even larger physical display than that, the jump in price would likely be substantial for a quality one. Even then, you still might not find one big enough to satisfy you.
So what can you do?
Well a better alternative would definitely be investing in a projector in this case. That way you'd get the variable screen size to best fit your room, and you'd be able to go much bigger than you'd be able to otherwise. It's a win win.
Interestingly enough, this also applies to the other side of that sentiment too.
Let's say for example you have a room that's actually smaller than average and you still want a big screen experience.
Rather than having a TV too big for the room, you could use the projector (which would also come in a much smaller form factor) to achieve the same thing. That way you're not missing out on anything and still get to enjoy your content the way you want to.
What Are The Different Types Of Projectors?
---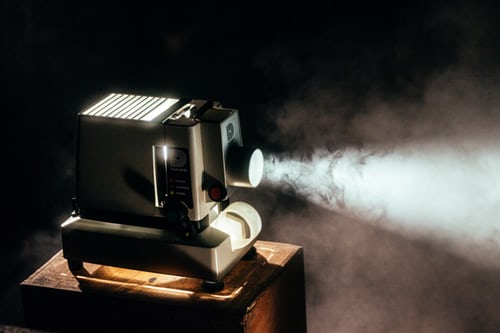 Now of course like I alluded to earlier, the type of experience you have is going to depend on the type and even model of projector you decide to go with.
But before we get into what works best for you, we should take a look at what actually exists out there first so you have a better idea what may be the best fit for you.
~LCD
---
LCD (Liquid Crystal Display) projectors are the modern versions of the ones used in the mid 1900's (which were CRT derivative).
The way that they work is pretty interesting.
The light which is emitted by an internal lamp, is then passed on to a series of mirrors that reflect only certain colors. From there they go through a panel which is able to further control things like brightness, saturation, etc.
These lights which are initially separated into the colors red, green, & blue, (much like a pixel) are then recombined before being shown as an image. All of this happens in an instant. These tend to very small and portable, making them very enticing for average household use.
~DLP
---
You can think of DLP as a more advanced version of LCD. They tend to come in one-chip or three-chip variants.
Each "chip" contains millions of mirrors that each bounce around light thousands of times per second (which is pretty crazy to think about)
Each mirror can be thought of as a pixel since they behave much in the same way; that coupled with the fact that there's so little space between each of them as well. With 1-chip models, they're able to produce up to 16 million total colors.
Sounds like a lot right?
Well a three-chip model can produce up to 35 trillion colors. 😮
Yes you heard that right.
Trillion.
By being able to process individual beams of RGB simultaneously, it has the added advantage of being able to show an astronomical amount more.
What's the point of being able to produce that many colors though?
Well the more colors that a display or image can produce, the more nuanced it can be when it comes to things like shading, skin tones, and a realistic picture. This all comes together for a much more life like image.
With that many, you can be pretty confident that it's going to produce some pretty fantastic images.
Developed by Texas Instruments, these chips used (also called a Digital Micromirror Device) are only able to process a third of the white light that comes in on their own. So in a 1 chip projector, only 1/3rd of the listed light capability will actually be displayed in the image, where as a 3 chip is able to show 100 percent of that same light.
But like you would expect, these do tend to come at a premium compared to their 1 chip counterparts, and especially their LCD counterparts.
~LED
---
The main difference with LED versions is that instead of using an internal lamp as the light source, an internal array of LEDs are used to do the same thing.
This actually has a number of advantages such as allowing it to run cooler, be physically smaller, consume less energy, and be more accurate when it comes to color.
The only tradeoff is that they tend to not be able to get as bright as the other types.
~Laser
---
One of the newest variants available, laser projectors are interesting because instead of using a lamp or even LEDs, lasers are used to project an image directly.
Now even though these have been around technically since about 2002 for industrial use, it wasn't until about 2015 where these were commercially available.
Due to the fact it can recreate any wavelength of light, these have the ability to create the widest range of colors. Not only that, but they also tend to have bigger contrast ratios, and better long term durability as well.
~LCoS
---
LCoS (Liquid Crystal On Silicone) is pretty much a hybrid of LCD and DLP technologies. Found typically on high end models, it combines a lot of the greatest features of both into one. These tend to be quite premium when it comes to features.
How Do I Choose The Projector That's Right For Me?
---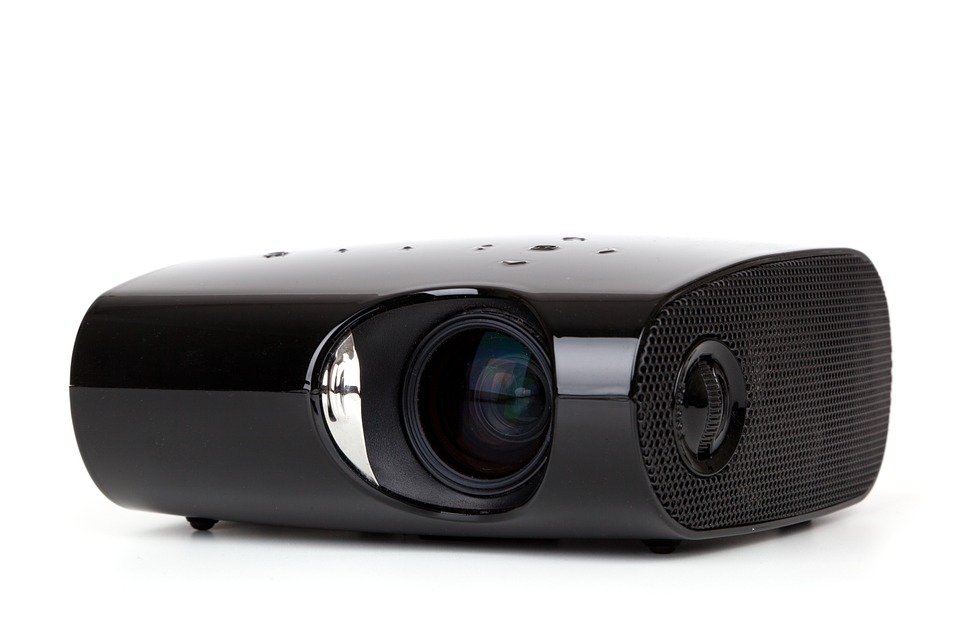 So by this point you might be thinking well these all sound awesome, but how do I know which is right for me?
I mean what's the best projector for a home theater?
Well in order to answer that, there's a few things that we have to keep in mind.
~Where Do You Plan On Placing It?
---
First thing that immediately comes to mind in terms of one of the biggest influences to your decision will be where you plan on placing the projector.
Will it be placed in a well lit room or a dark one?
Perhaps even placed outside?
If you plan on placing it in a room with a lot of sunlight or even outside, then you'll probably want to go with an LCD, LCoS or Laser type. That's because these tend to get the brightest, and so will be the most visible in these types of rooms.
On the flipside, if you planned on placing it in a darker movie room, then you'll probably want to go with DLP, LED, LCoS, or Laser types as these tend to have the best contrast ratios and will provide better black levels.
That means the picture will look much more life like and pleasing to the eye.
For a room that'll be dealing with both kinds of lighting conditions, then I'd definitely suggest LCoS, DLP, or Laser because these will offer the best versatility in these instances.
~The Throw Ratio Is Also Important
---
The next thing you'll want to consider is the throw ratio of the projector.
This basically tells you how big the image will be at a specific distance. This is extremely important to keep in mind because the throw ratio of one unit might produce an image that's bigger at the same distance as another one.
It's especially important because if you're already pressed on space or in the middle of planning your own home theater, then you'll want to know to know how much wiggle room you have in regards to physically moving it around to get the image you want.
It's also important when you want to permanently install it somewhere because that'll be the permanent image size when you place it.
Yet another reason throw ratio matters is if you're trying to have a certain screen size at a certain distance. For example let's say you have a specific seating arrangement 10 feet away from the front of the room and you want one that's capable of producing a 100 inch screen at 12 feet away.
If you get one that displays a 150 inch image at that same distance, you'll be in trouble because the image will be way too big and things will end up looking distorted. What helps in cases where there's not much room for movement is a projector with short throw capability.
This basically allows it to be placed really close to a surface but still produce a wide image. Definitely helps if you're planning on placing it in a smaller room.
~Lens Zoom
---
Something else you'll want to keep in mind when picking the one that works for you is the amount of lens zoom it also has. Lens zoom, like the phrase implies, allows you to adjust the size of the image without actually having to move the device itself.
It's usually denoted by a number; so if you see one listed with 2.0X zoom, that means you can adjust the picture to be twice as big as before in the same exact spot which can be pretty helpful.
~Getting One With Keystone Correction Will Make Things Easier
---
While on the subject of zoom actually, another little side feature that may come in handy is Keystone Correction. Basically, Keystone Correction allows you to correct an image that may look crooked to the viewers when placed off angle or even perpendicular to the screen.
Now while almost every projector has the feature now a days, some still don't; so it's just worth mentioning that if you're in the market for a new one, it may be helpful to note whether or not it's capable of this.
~Aspect Ratio
---
Aspect ratio is basically how the image will look on screen given the height and width proportionally. The reason this is important to make note of is the fact that different movies and shows are shot in different aspect ratios.
Some might be 16:9 and others might be 21:9, which means the image might look different depending on how the content was filmed. This is where those black bars at the top and bottom of the screen come from during movies (often called letterboxing)
It's basically a result of trying to correctly fit an image to a screen that's a different aspect ratio than what the movie was shot in.
What you ideally want to look for is a projector than can display a bunch of different aspect ratios so that you can always have a correct looking image. Otherwise you might end up with a picture that's either too small or one that's distorted to the point where it looks stretched.
~Figure out Where Your Priorities Lie
---
You'll also want to prioritize when it comes to features; you know, which features are most important to you?
Do you want 4K and the most colors possible, or do you want one capable of the darkest blacks to make the image really pop?
There's a truckload of fancy features out there like HDR, Wide Color Gamuts, 4K, the list goes on, but at the end of the day, what matters most is which of those is most important to you.
When you can list all the features you'd want definitively, then it makes your search for the perfect projector that much easier.
~Your Budget Is One Of The Most Important Factors
---
Price of course also matters, so setting a specific budget beforehand can also make deciding a little easier.
That being said, keeping your budget slightly flexible is recommended since you may encounter something that's perfect for you that might just be ever so slightly out of what you were planning on spending.
In that same token, this is going to be something that you'll likely be spending years with, so compromising isn't necessarily what I'd suggest. You don't want a few months to go by and you end up feeling underwhelmed or wishing you had gotten the better model.
Keeping this in mind will help in choosing the one that's right for you.
Should You Choose A Projector Over A Television Or Monitor?
---
Here's the real question, should you ditch your monitor or TV in favor of a projector?
That's going to be a tricky question to answer because there's instances where the TV might be better, and then there's situations where the opposite might be true. For example, if you're trying to get the biggest image possible (at least anything over 82 inches) then you'll probably want to go with the projector in this case.
But then that's not to say that anything smaller automatically means you should disregard them either because they have their utility in smaller rooms too; probably even more so here because you could technically still get a big screen image while also taking up less space.
Like I said before, image quality isn't really a concern anymore since now a days they're pretty much on par with some of the best TVs, so that's not really something to worry about. But with that being said, there are actually 2 reasons I can think of to purchase a projector instead of a TV.
I had mentioned this one earlier, but the first reason comes down to portability. If you're someone who travels a lot, and or changes the setup in their home a lot, having a projector can be advantageous because it'll be much easier to transport.
Plus because it's physically smaller, it provides you with many more placement options. That and the added variable screen size benefit is invaluable in comparison. It's like getting a bunch of different TVs in one.
On top of that, there's always the added benefit of them actually being easier on your eyes than a traditional television due the fact they use reflected light to display an image. So if you're someone who's susceptible to eye fatigue, this can be a pretty great reason to get one.
This level of convenience leads to the second major reason why you might want to also get one; it's safer.
What do I mean by that?
Well if you have a lot of pets or even smaller children around, there's always the off chance that they could knock the TV over. But because a projector is much smaller and can be mounted or placed out of the way, this completely removes that possibility.
Now of course you can technically mount a television too, but this can be a little harder to do. But to be fair, TV's do have the luxury of convenience comparatively since you're much more likely to be familiar with setting up a TV rather than a projector, and in some cases, it can be an easier experience overall.
Interestingly enough, that's actually a perfect segue into the next question.. (I'm getting pretty good at these)
Is It Hard To Set Up A Projector?
---
So let's say that you decide to get one, how hard is it to setup and get working?
Surprisingly it's not difficult to do at all, it's just going to depend on the kind you get and where you plan on placing it.
This article is pretty helpful when it comes to this.
What Else Do I Need To Set One Up?
---
So when it comes to other things that may be needed as well, this again is highly dependent on your individual use case. But let's break it down further.
~A Projector Screen Is A Safe Bet
---
The one thing you'll likely need most is a projector screen.
Here's an article that details all about that.
Basically a projector screen is a screen made of a special type of material (often times a type of fabric) that displays the projected image it receives in a way that allows it to act like a traditional display.
The reason you may want one is that it can make the image quality look better than if it were reflected onto a wall.
These are especially helpful in bright rooms because the contrast between the image and the material will allow it to appear brighter and thus be more visible as a result.
There's a wide selection to choose from since they come in a bunch of different colors, materials, and types. Some come on a stand, while others can be placed on a wall and are fully retractable.
This means that there should be one out there for everybody.
~Blackout Curtains Are Really Cool
---
The next thing you may want to consider getting are blackout curtains. These function exactly how the name would suggest, and block out any external light providing you with a dark environment.
These are especially helpful if you have a display that can't get as bright since it'll allow it to appear brighter than it normally would than if it were in a lighter setting. This will also give you better picture quality as well due to the lack of distracting light that may wash out the image.
Plus they just look cool and help give your room that authentic feeling movie theater experience.
These are the one I'd personally go with.
~You May Want A Projector Mount
---
Another thing that you may need is a projector mount.
The thing to keep in mind is that projectors need a clear line of sight between them and whatever they're projecting onto. If this is not possible in your particular room, or find that people will often have to walk in front of it to get past, then you may want to consider mounting it to the ceiling so that it's out of the way.
Luckily, it isn't difficult at all to install, and the instructions typically come with it. The one listed below is a really good one to go with.
~A Universal Remote May Just Come In Handy
---
The last thing you may want to go with to simplify things within your system is a universal remote.
I've talked about these before which I'll link to below, but basically having a universal remote makes things infinitely easier for you since you won't have to keep switching between a bunch of different remotes. One remote, and you can control all your devices.
Once you get the chance to use one, you'll be shocked at what you've been missing all this time.
~A Spare Bulb Or Two Depending On The Type
---
Projectors tend to have what's known as a lamp life; which is basically an advertised suggestion of how long it'll last before it either dies or begins to dull (somewhat similar to a television)
The larger the number, the longer it'll last before needing a new bulb.
So if you're aware beforehand of the kind you'll be getting, then it wouldn't hurt to pick up the corresponding bulb for that model so that way you'll have spares ready to go.
Can You Use A Projector With A Computer?
---
Here's an interesting question that a few people out there may also be wondering, is it possible to use one with a computer or a computer monitor?
The answer to that question is yes.
Of course how you do this will depend on the type of projector being used with the computer, but typically it can be achieved with a VGA or an HDMI cable if it's somewhat newer.
Some even allow you to connect wirelessly via Bluetooth, so there's no doubt that you'll have a variety of options at your disposal.
Here's an article that shows you how to do so.
Well guys, that about wraps it up for this one.
So hopefully with what all we've talked about today, you've got an idea of you might particularly be after when it comes to choosing the best one for you.
Also hope I did a well enough job explaining what projectors are, and why you'd potentially want to go with one. With that these are the best in my opinion for 2023.
Until next time, make it easy, keep it simple. 😀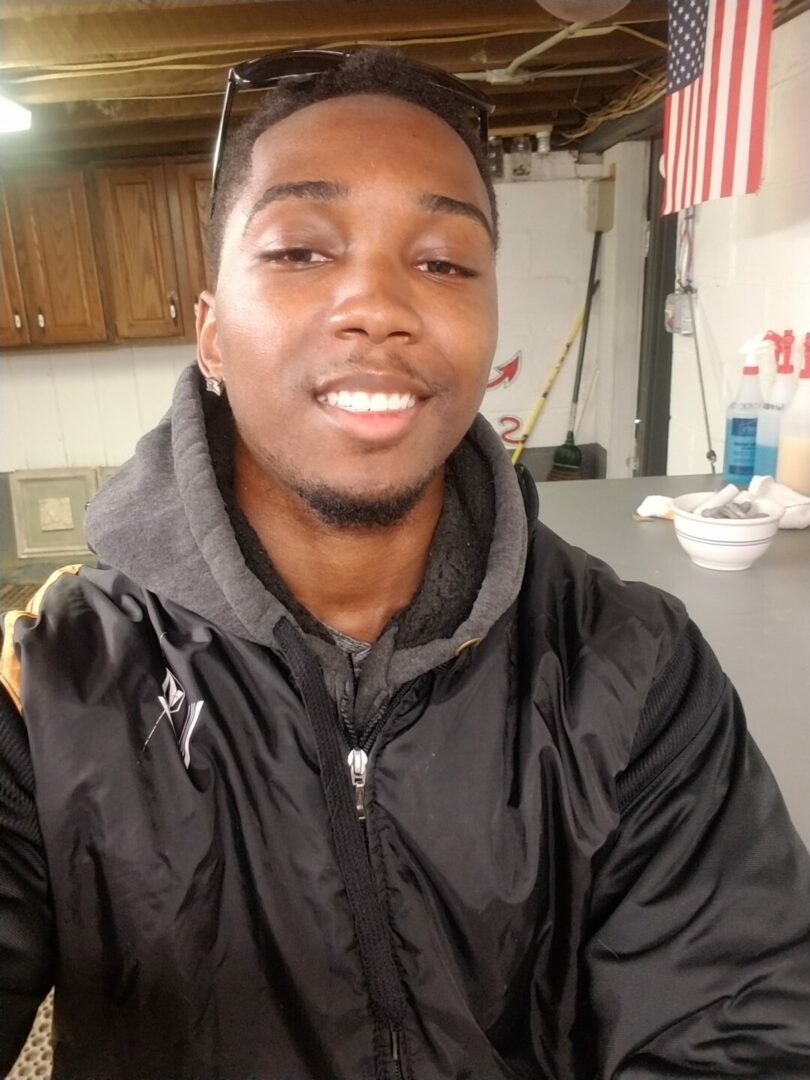 Hey everyone it's nice to meet you. I'm Jay & I've been with this hobby for many years now. I decided to create this site to share everything that I've learned from personal experience with you. I also happen to be a huge gamer, lover of all things tech related, and a major fitness buff (love weightlifting)
https://Facebook.com/easyhometheater
https://Twitter.com/easyhometheater
10 Comments so far:
previous - next