As an Amazon Associate I earn from qualifying purchases. Disclosure
Yamaha NS-6490 3-Way Bookshelf Speaker Review
---
How's everybody doing today? Hopefully you're all doing well.
As you've probably already surmised from the title, this is going to be the Yamaha NS-6490 3-way bookshelf speaker review, a look at a speaker that's well.. quite interesting to say the very least.
But why's that exactly?
And more importantly, is it one that's worth your consideration?
Let's find out!
Appearance
---
Of all the interesting things about this speaker, I think one of the most prominent has to do with its appearance.
That's not even to mention the aesthetic appeal since we'll get to that in a second — but simply the sheer size of this speaker is what's immediately apparent.
Make no mistake about it, this is no small speaker; with the box measurements coming in at 13 x 13 x 25 inches and the speakers themselves as 10.5 x 16.2 x 13.2 — and a combined weight of 29.3 pounds.
So right off the bat, this is one of those cases where you'll want to make sure there's adequate space beforehand. I'd almost say they're better suited for larger rooms, but if you can make them work in a smaller space then hey, that works too.
In terms of their actual appearance though, they're certainly distinctive compared with a lot of the speakers I've seen. The grille of the speaker is beveled, and juts out in a way I really haven't seen before to be perfectly honest, but it looks really cool.
It definitely adds additional depth towards the front though, so that's something to keep in mind with placement.
Toward the bottom there's a small Yamaha logo with their signature symbol, and something else I found was that the drivers beneath are actually still somewhat visible; especially in a brightly lit room.
Removing the grille reveals quite the peculiar site; the tweeter and mid bass driver lined up side by side with the woofer placed directly below it.
It almost reminds me of the Edifier R1280T with its offset design, but it gives it a very expressive look that provides a little bit of extra character to the overall design; what with the silver components accented by black trim.
Something to note though; while the exterior of the cabinet is more of a matte finish, the front of the speaker has a shiny, black, almost mirror like finish.
While it definitely looks nice, it's also a complete fingerprint magnet, so if you plan on using the speaker without the grille, you may have to wipe it down occasionally to keep it looking pristine.
Other than that though, not too much else to say really when it comes to appearance other than it's a beautiful looking speaker that also happens to be on the larger side.
Specs & Features
---
In terms of the features of the speaker, there's actually a few things that make it stand out. The first thing that makes this speaker pretty unique is the fact that it's a 3 way acoustic suspension design.
That basically means there's 3 separate drivers that handle the bass, mids, and treble individually in a specially sealed cabinet, allowing for a more accurate sound.
More specifically, there's an 8 inch long throw cone woofer for the bass, a 4 inch ferrofluid cooled mid range driver for midrange sounds, and a ⁷/⁸ inch ferrofluid cooled balanced dome tweeter to handle the high end.
Ferrofluid cooling is basically a way to dissipate heat in the speaker to keep it working optimally, so it's nice to see it present here.
These speakers also have the benefit of being magnetically shielded which basically helps protect your speaker and other electronics near them from electromagnetic fields which can affect performance.
They also have a wide frequency range of 45 Hz to 23 KHz, which should provide for a wide range in the sounds it's capable of producing.
There's also continuous output of 70 watts and a maximum output of 140 watts; meaning it can get plenty loud.
They also have an impedance of 8 ohms and a sensitivity of 90 dB/W/ meter. This basically means that for every 1 watt, it's capable of producing an output of 90 decibels from 1 meter away.
The reason this is especially noteworthy is due to the fact that the higher a speaker's sensitivity level is, the easier it is for your speaker to get louder while requiring less power to do so.
So it being at a 90 dB in terms of sensitivity means it'll be much easier to actually power it.
In layman's terms, this all basically means it can reach up to 108 decibels at max volume which is incredibly loud.
I've also made mention of this earlier of course, but just to reiterate as far measurements are concerned, they come in at about 10.5 x 16.2 x 13.2 and a combined weight of 29.3 pounds.
Setup
---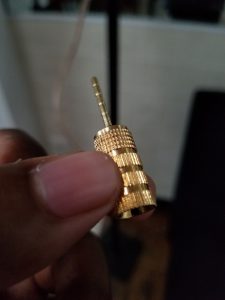 As far as setting these speakers up are concerned, it's pretty easy to get them up and running.
I do want to note beforehand however, that there's a spring loaded terminal and not a 5 way binding post on the back of the speaker; meaning you may want to use pin plugs with these.
But the actual setup itself is just like with any other passive speaker, meaning that in order for them to actually function, things like speaker wire come in handy. A wire stripper may also be helpful too.
In terms of connecting it, it can be done in one of 2 ways — either with or without a pin plug, and then inserting one end of the wire into the speaker and the other into the receiver (which should be turned off beforehand)
Other than that, that's pretty much it.
Here's a guide that details this more if you're still unsure how to set things up.
How It Sounds
---
So at the end of the day, how does the NS-6490 actually sound?
Very full bodied would probably be the best way to describe them.
Make no mistake, they certainly have a warmer sound signature for sure, but at the same time, they don't overdo it to the point where it's distracting either. It's just a really smooth and refined sound that's almost hard to describe honestly.
But in my opinion, it does it extremely well.
The quality of the audio itself is crisp, with the finer details in content well represented and prominent.
I'm sure this probably has a lot to do with the sheer size of the cabinet, but it probably has a lot more to do with the fact that these are 3 way speakers — meaning there's actually dedicated parts of the speaker meant specifically to handle the bass, treble, and mids.
But again, they definitely have some of the fullest sound I've ever heard.
What do I mean by that exactly?
Well I've found that in particular, because these tend to err on the warmer side of things, they really excel when it comes to things like voices and dialogue, giving them a real sense of depth and grit.
From personal experience, I've noticed that it can sometimes prove difficult for a speaker to do voices convincingly, while also balancing all the other sound effects and details left & right channel speakers are often responsible for; but with that being said, these speakers handled all of those things with ease.
At the same time though, what really impresses me is that despite being a warm sounding speaker, it again doesn't neglect the more delicate and intricate sounds that can often be difficult to produce — adding an extra degree of dimensionality to the overall sound.
Bass, is something that these do especially well though, digging deep enough that if you were to forgo the use of a subwoofer, you'd still be pleasantly surprised by how much oomph these things pack.
I mean don't get me wrong, I'd still recommend a subwoofer, but the fact that I'm even talking about bass at all when considering these are bookshelf speakers says quite a lot.
If anything, this level of versatility also helps if you plan on using these for stereo purposes too because it benefits music playback quite a bit — and I can certainly say from firsthand experience, music sounds pretty incredible with these.
All of these qualities come together to provide an almost 3D like soundstage that really immerses you in whatever it is you're listening to.
What's surprising is that I really don't have any major gripes with this speaker to be perfectly honest with you. I mean maybe the size if I were to really nitpick, but if having a sound quality this good means a slightly bigger speaker then I'm personally all for it.
The power is there, the sound quality is there, and it really just all comes together for a really satisfying experience. It's definitely a favorite of mine that's for sure.
Likes
---
Warm sound signature provides for a superb sound quality
Works especially well for music
Excellent tweeter for higher frequency sounds
8 inch woofer provides substantial bass output
Unique grille design looks amazing
3 way design allows for more dimensionality in sound
Can get very loud with minimal distortion
Dislikes
---
Front of the speaker is glossy and can pick up fingerprints
Very large cabinet that requires ample space
No wall mounting key hole
Pin plugs are the only connection type
Final Thoughts
---
Well folks, that about does it for this Yamaha NS 6490 3 way bookshelf speaker review.
In short, it's an awesome 3 way speaker that gets plenty loud and sounds great doing so. Be it music, video games, or movies, it handles all of them impressively.
But that's pretty much it for this one. If you have any questions, certainly feel free to reach out and I'll do my best to help.
Until next time, make it easy, keep it simple. ?
Hey everyone it's nice to meet you. I'm Jay & I've been with this hobby for many years now. I decided to create this site to share everything that I've learned from personal experience with you. I also happen to be a huge gamer, lover of all things tech related, and a major fitness buff (love weightlifting)

https://Facebook.com/easyhometheater

https://Twitter.com/easyhometheater

previous - next